The team behind BLOCKLAB Studios has been partnered with Mojang since 2012. Transparency and honesty are at the forefront of our values - especially when it comes to finance.
Our financial principles
We believe in the following principles:
Pay you the largest revenue share It's your content. You deserve the largest share of the spoils.
No silly deals! Your content will be online for a minimum of 1 year unless it is removed from the store for reasons outside our control, or if either you or BLOCKLAB Studios decides to remove it from sale. We'll auto-renew each year too, unless you tell us not to. We never profit from your content without you being a part of the deal. Whenever the product is on sale, you earn royalties. No short term deals where you stop earning after a few months - we keep it simple and fair.
To share as much information with you as possible regarding the estimated daily earnings of your products (we pipe the telemetry-based estimated sales data Microsoft provide us each day* to a Business Intelligence dashboard) - allowing you you to keep your finger on the pulse
To provide a detailed breakdown (Royalty Report) of your sales each month along with the total earnings, withholding tax (if applicable), your royalty rate, and your total earnings. Paired with a breakdown of daily sales by product, units sold, and downloadable data for you to check everything for yourself if you want to.
To pay you each month following your approval of your Royalty Report earnings.
Use computed-generated reports! We get a lot of data each month, it isn't feasible to accurately report figures without the assistance of software. Our software tracks every single sale of your content with amazing accuracy. No spreadsheets, no human error - just pure mathematical goodness!
Ensure you always own your content we license your content exclusively, so you always own your content. We never acquire your work.
* Estimated sales data in your BI dashboard can be up to 3+ days behind. Sometimes longer in exceptional circumstances.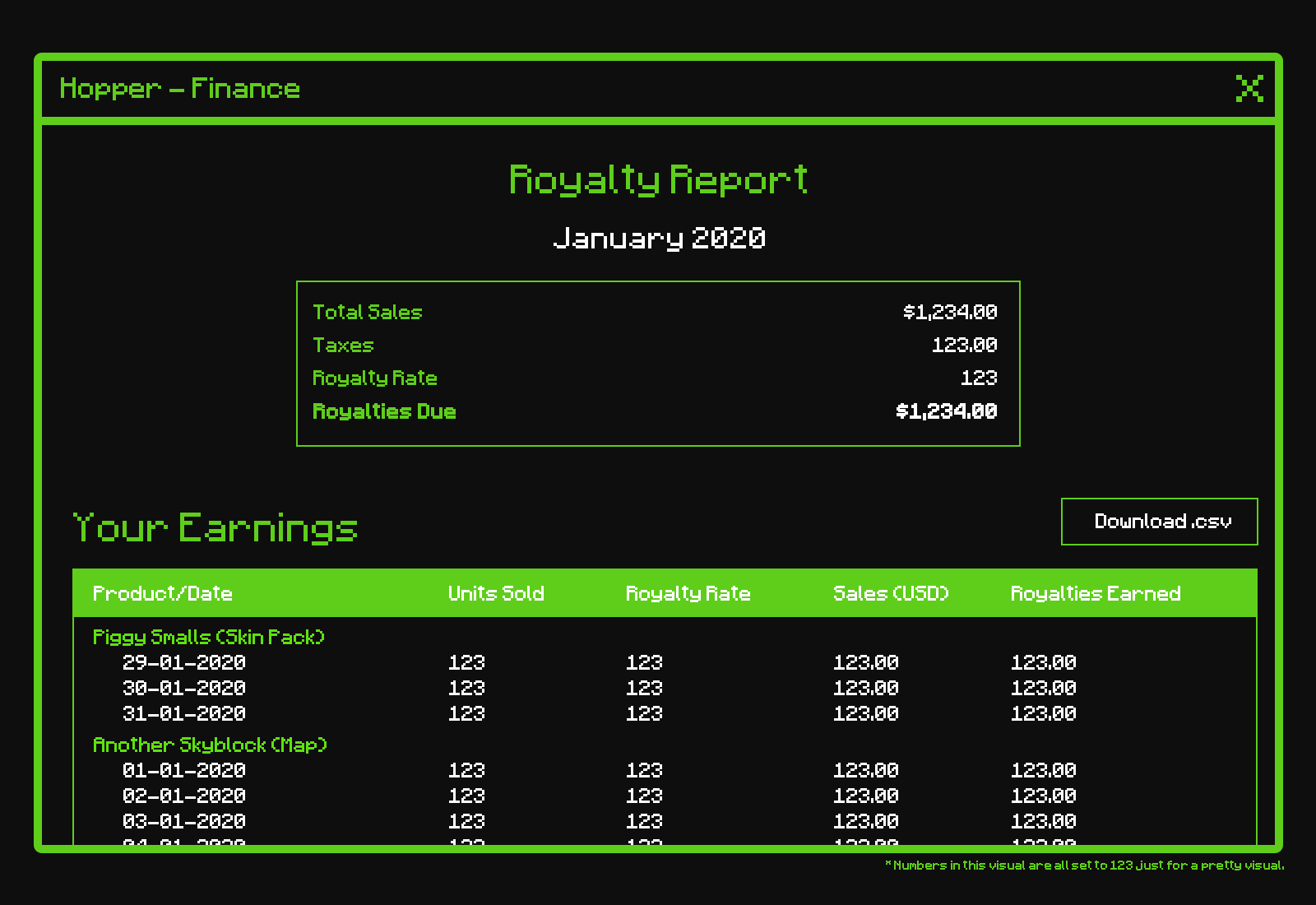 Payments
We pay via Wire Transfer using TransferWise or BACS.
Direct Partnerships
We should also point out that we highly encourage you apply to the Minecraft Marketplace as a direct partner too. Publishing via BLOCKLAB Studios never prevents you doing your own thing.
---
Interested in working with us?
Apply Now
---
You might also be interested in:
Production Tools
Business Intelligence
Legal Contracts
Automatic Notifications
Help & Support